[:en]
The basis of Mind Mapping is the creation of a graphical representation of large quantities of information (texts, tables, relationships etc.).
During his attempt of several years to improve the linear method of creating notes, Tony Buzan developed a method which would later be referred to as Mind Mapping. His method is based on scientific research about the inner workings of our brain.
By using an hierarchical structure, keywords, colours, drawing and arrows you'll be able to fit a lot more information onto an A4-paper. Besides that, it's also proven to be a lot easier to remember information in the form of a visual and colourful picture instead of page after page of black and white notes.
[:nl]
De basis van mindmapping is het maken van grafische weergaves van grote hoeveelheden informatie (teksten, tabellen, verbanden, etc.).
In een jarenlange poging om de lineaire methode van notulen maken te verbeteren, ontwikkelde Tony Buzan een methode die later bekend werd als mindmapping. Zijn methode is gebaseerd op wetenschappelijk onderzoek naar de werking van onze hersenen.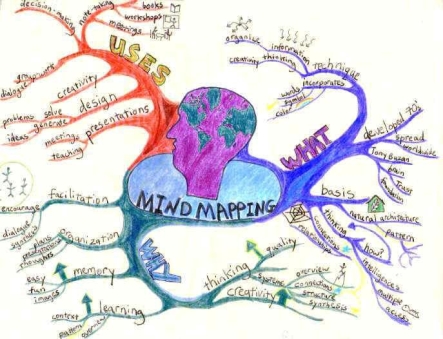 Door gebruik te maken van een boomstructuur, steekwoorden, kleuren, tekeningetjes en pijlen kan op een A4-tje veel informatie worden weergegeven. Daarnaast blijkt dat het onthouden van de informatie in de vorm van een kleurig plaatje veel eenvoudiger is dan wanneer er pagina na pagina na pagina aan zwart/witte notities worden gemaakt.
[:]